Venair is developing a systematized process for the 3D printing of industrial silicones
Venair with the help of Clúster MAV and CIM-UPC is elaborating a research project about 3D printing. The project has received a monetary help from IRC with support of Acció to elaborate a systematized process for the manufacturing of advanced personalized silicons.
The project
The project has the goal of the development of silicone prototypes using 3D printing technology, to manufacture new products and help innovate in the know how of silicone 3D printing.
The project includes two main phases:
Feasibility study: study and analyze the technical feasibility of the 3D silicon printing process
Systematized process for the 3D printing of industrial silicone components.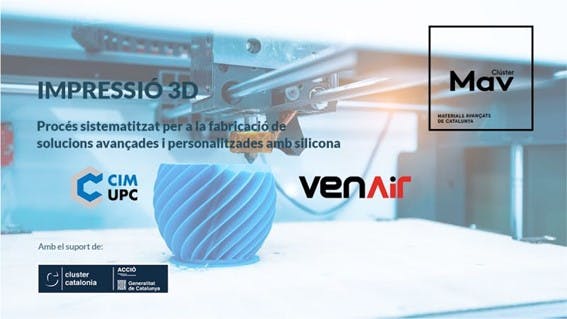 Venair Techlab is going to be completely involved in this project during 2022.
We're expecting to finish the project in the last quarter of 2022. Venair Tehclab is increasing its research in working towards the robotization of projects and the optimization of manufacturing process of new products in order to help increase our productive competitiveness and be able to continue diversification and help even more sectors.